Accounts
Working private cheat for the game Warface -
MiniTrainer WF
← Читы Warface
MiniTrainer, the very same private cheat with a minimum chance of banning, due to the few functions that are quite difficult to catch the game. The program is really popular, hundreds of people play with it - fans of the game Warface. This program is convenient because it can be adjusted for yourself. Shot delay is fully adjustable and you can set the values from the most powerful, dirty - to the values where neither the system nor the players will not understand that you play with autoshot.
Since the key function in this cheat is "auto-shot, when pointing at the enemy" - I will tell you a little secret. What would successfully dominate the enemy in pvp - you just have to keep the sight at the level of the head of the rivals. If the enemy will run out - the program will catch his movement and shoot. Very convenient.
Use online payment right now and start winning in Warface.
Features:
AutoShoot - auto-fire when pointing at the enemy;
AutoShoot only in Zoom - The AutoShoot function is triggered only when you are in the scope;
AutoShoot Shot Delay - time of shot in milliseconds;
AutoShoot Before Shot Delay - time of shot delay in milliseconds;
Aim Assist - the Aim Assist, directs the bullet at the enemy (randomly selected bone) when shot, if he is in the radius of the sight;
Sound Radar - this is the sound radar. This radar is a unique development of ours, which has no analogues. If a player is in your scope, even behind the wall, the radar notifies you about it. The frequency of the sound changes depending on his distance.
Pay Online!
3999 rubles - Unlimited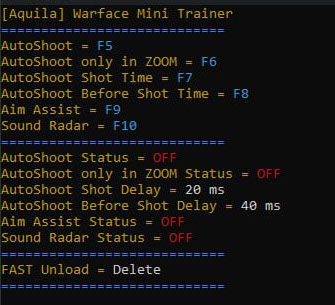 * Unlimited version - in common parlance, they say "Forever" activation. But in fact, it is an activation for as long as the developer is able to update it and maintain its performance. Aquila Hack cheats work for over 3 years. Regularly updated.

After payment you get detailed instructions on how to activate, run and use the program. Which will come to you on the mail specified before the payment.
There you can also find a link for downloading and the necessary components for the program to work.