Accounts
Working Aquila private cheat for
Farlight 84
game
Advantages of purchasing the working private cheat Aquila for the game Farlight 84
Acquiring the working private cheat Aquila for the game Farlight 84 can provide players with numerous benefits. One of the main advantages is the high quality of this cheat, developed by a reliable team of programmers. This guarantees stable performance and the ability to use all functions without any issues.
One of the main features of Aquila is that it is constantly updated and improved by the developers. They closely monitor changes in the game and quickly respond to any updates and technical work. Thus, users can be confident that the cheat will always be up to date and will work without any glitches.
One of the most significant advantages of Aquila is its low chance of detection. The cheat utilizes a modern bypass method, making it almost undetectable by the game's security system. Therefore, players can feel assured of their safety and not worry about their account being banned.
It is also worth noting the convenience of using Aquila. The installation and launch of the cheat are relatively simple procedures, and in case of any difficulties, users can receive free technical support to assist with setup and answer any questions.
The functionality of the cheat is quite extensive, including features such as AimBot and Visual. AimBot allows players to enable a mode that automatically aims at opponents, with various customizable parameters such as aim radius, smoothness, prediction, and recoil control. This allows players to enhance their effectiveness in encounters with enemies.
Visual, on the other hand, provides information about players on and off the screen, the number of spectators, the ability to display AI bots, as well as various data about players, such as their nicknames, team, health points, and other elements that can be useful in the game.
Therefore, purchasing the private cheat Aquila for the game Farlight 84 can be an excellent investment for players who want to enhance their effectiveness and improve their gaming experience. Reliability, updates, low detection rate, convenience, and functionality make Aquila an attractive choice for many players.
Works on systems: See here
Steam game client.
Buy a working private cheat for Farlight 84 you can online on our site
Program functionality
Functions:
AimBot:
Enable
Do not point behind the wall
Show Bone
Radius / Aim Fov
Smooth
Activation Button / Aim Key
Prediction
Bone
Nearest bone
Recoil Control
Visual:
Number of visible
Number of unvisible
Number of spectater
Show bots
Distance
Nicky / Nicks
Team
HP
Skeleton
Head
Box
Lines
Radar
Radar scale
My Player Size
Enemy Size
Mics:
Settings:
Enable AntiScreen
Vertical sync
Overlay Border
Overlay info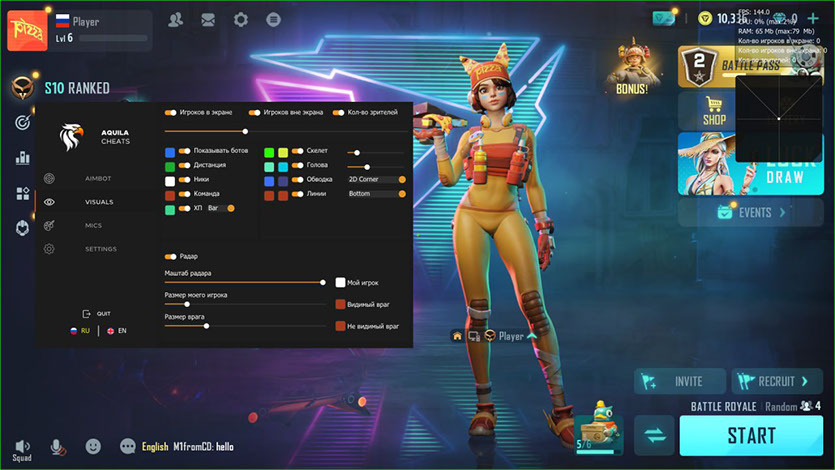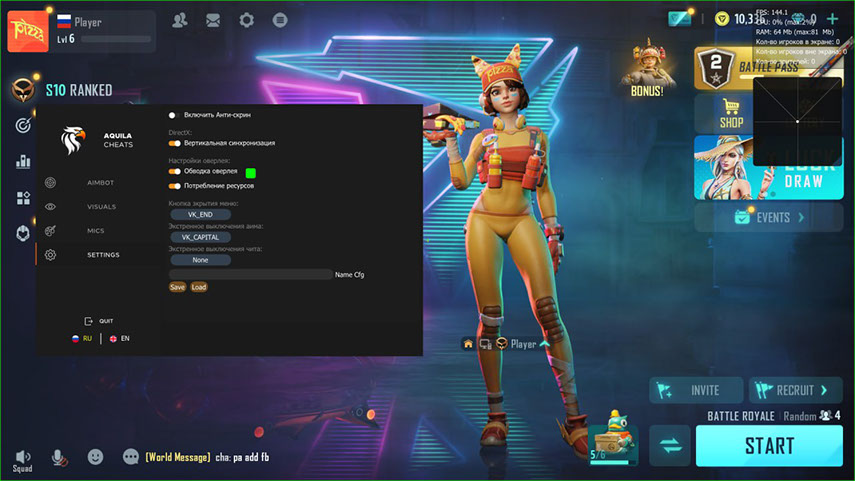 In any game with any cheat, you can get your account blocked. Play as carefully as possible.
© 2017-2023 aquilacheats.ru -Copying and distribution of the material is prohibited.
Email for complaints: [email protected]